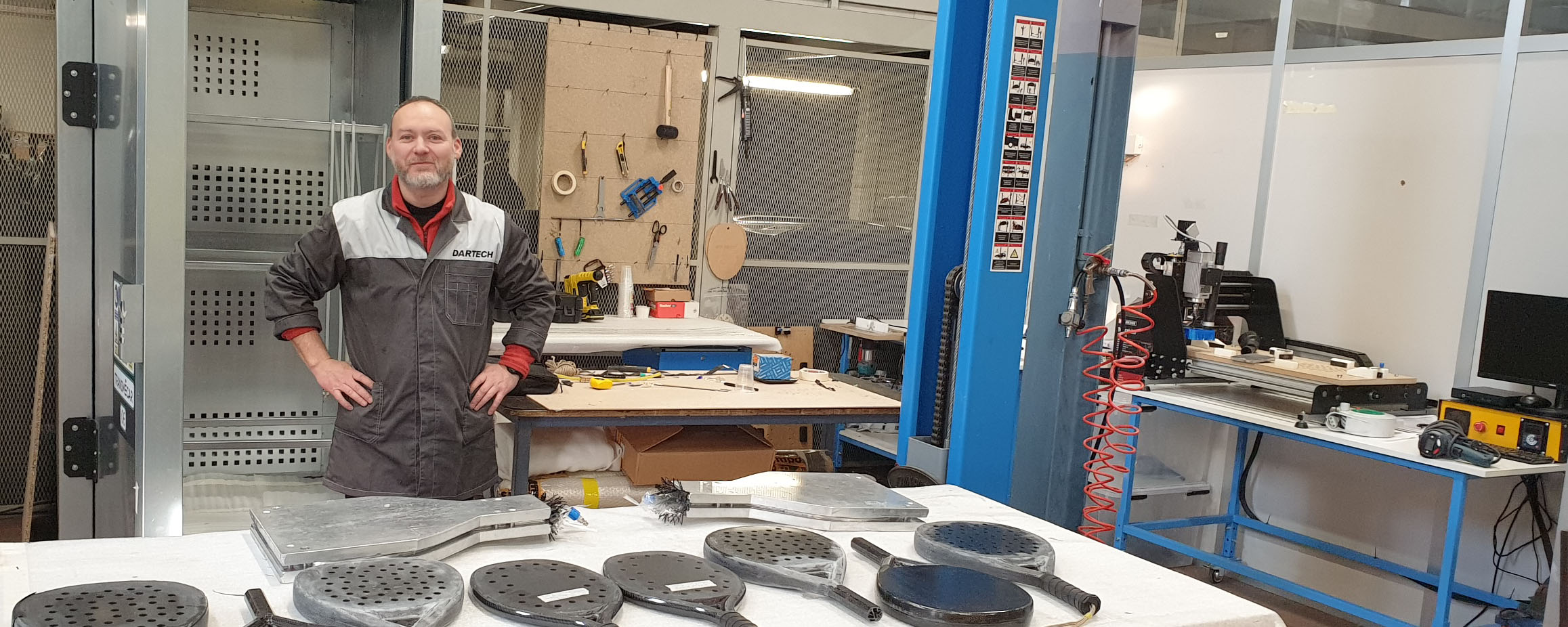 MAKE YOUR PADEL RACKETS
If you are passionate about padel tennis and want to invest in a business model related to your passion, Dartech Carbono helps you make your project "Manufacture padel tennis rackets" a reality.
The proposal covers both small-scale and large-scale manufacturing, Dartech Carbono helps you throughout the whole process of setting up a padel racket workshop / factory.
We advise you on the workshop equipment, machines and processes necessary to adapt to your needs.
We can duplicate the business model of handmade padel racket manufacturing that we have been carrying out at Dartech Carbono for 10 years, or capture all this knowledge in a factory if you want to produce on a large scale.
Whether you have your own designs or want to use our Dartech moulds, we have a solution for you.
We have the knowledge and energy to advise and help you with your project.
Making a padel tennis racket is easier than you think, you just need to be guided through the process so as not to fall into "paralysis by analysis".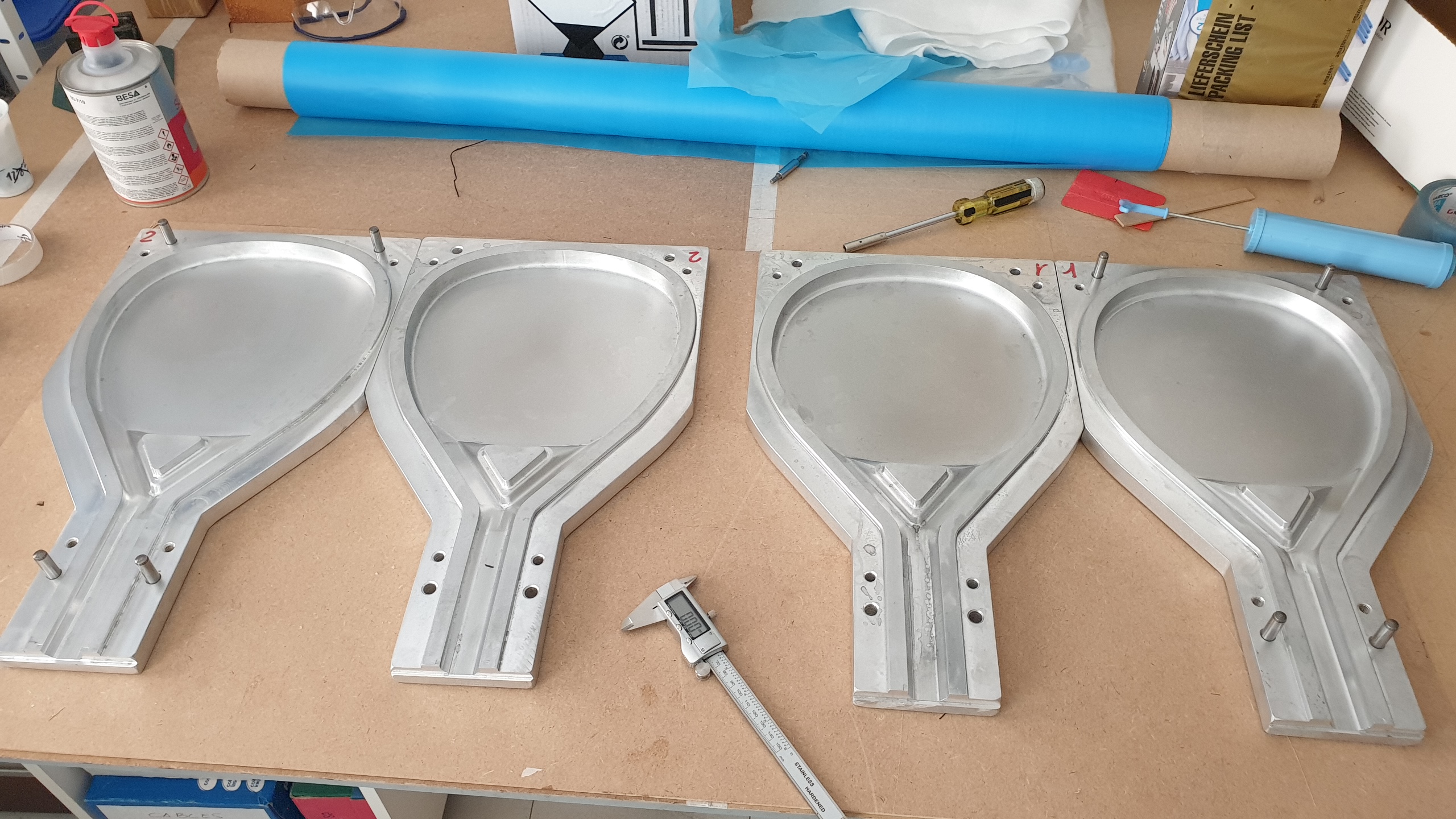 Dartech Carbono's business proposal is based on the following points:
Orientation of the type of manufacturing taking into account the requirements of the client.

Study of processes and times to adapt production to existing personnel resources  and facilities.

Advice on the work areas or boxes, processes involved, their execution... a complete "Know how" of the padel racket manufacturing process.

Manufacturing of the necessary moulds.

We provide the

necessary equipment

 for the manufacture of paddle tennis rackets, according to the needs of the client: vertical oven, CNC milling machine, machinery for cutting the material, tools and specific work tools...

Information on the raw materials involved in the processes and information on the suppliers, so that once we have taught you, you can be independent.

And to complete this "Know how", we will carry out an "in situ" training. This means that we go wherever you are going to set up your workshop or factory, no matter where, and we will teach you each task involved in manufacturing, all in a didactic and entertaining way, without rushing and breaking down the entire process so that you can manufacture padel rackets of the highest quality and spectacular finishes.
If we carry out a simple analysis of padel tennis, at a global level, we realize that it is a sport that is gaining more and more presence in countries in Europe, Asia and America... that, without investigating too much.
On the other hand, we are seeing a change in the international logistics paradigm, and I am referring above all to transport costs. One of the most logical explanations is that fossil fuels (mainly diesel, used in ships and trucks), are becoming scarcer and of poorer quality, thus increasing transport costs and therefore the production costs of the merchandise, so it is going to cost more and more to manufacture in distant countries and move the products to local facilities for distribution.
The solution that Dartech Carbono proposes, in the specific case of padel rackets, is to change the traditional system of large-scale manufacturing in distant countries for a more localized system in which micro-factories manufacture the rackets locally and thus respond to the great demand that we are currently having. Obviously this will not be profitable for many, but for others it will be their way of empowering themselves and being able to dedicate themselves to a job as exciting as the manufacture of padel tennis rackets.
There is a popular saying (I don't know the author, Chinese proverb, Confucius,... I keep the idea) that goes like this: "Give a man a fish and he will eat for a day, teach him to fish and he will eat every day".
Well, a bit of the philosophy of this proposal is to localize production to the distribution area, through the implementation of micro-factories, teaching and training in the manufacture of padel tennis rackets, and at the same time promoting local employment and commerce.
It is an opportunity to start an exciting business that combines highly technological materials (composite materials) with the most purely artisan and manual work, allowing you to create with your own hands a product in high demand such as a padel tennis racket.
If you are interested in the proposal, we will be happy to help you... to Manufacture Padel!
Contact us:
- Diego Alonso Raposo
- Esta dirección de correo electrónico está siendo protegida contra los robots de spam. Necesita tener JavaScript habilitado para poder verlo.
- Esta dirección de correo electrónico está siendo protegida contra los robots de spam. Necesita tener JavaScript habilitado para poder verlo.
- +34 605501090 (also whatsapp)